Community Art
Leona facilitates the creation of large scale Artworks that the whole of your Community take part in making. Your group can choose from a 2D or 3D Artwork for your indoor or outdoor space. Cost depends on the size/time scale of the project and if the Artwork is required for indoor or outdoor display. Please get in touch for more information.
An amazing

NEW

 Public Artwork for Muswell Hill!
I'm pleased to announce, the Mosaic has been installed.
The Official Unveiling took place on 3rd December as part of the "Very Merry Muswell" event in St James Square.
Thank you to Rowland Rivron and Peter Tompson for their wonderful speeches. Thanks to everyone who took part – whether you place 5 tiles or 50 tiles, you made it happen!
This project was self funded. You can still help assist by donating using the yellow button below. Your contribution takes immediate effect and is received with appreciation.
We had 3 wonderful afternoons making the Mosaic in June, July and August 2016. Thanks to all those who took part – about 50 people in total – it was great to see you all! The Mosaic, which is now displayed in the centre of Muswell Hill permanently, is now complete. It's exact location is the wall next to Bill's Restaurant on St James Square.
Thanks to Sean and Pete at Topps Tiles, to the lovely folks at the Methodist Church on Pages Lane, to Deanna and Mel for being my champions and to Zac for all the great photos/videos and help during installation.
This has been a self financed project because of my compassion for bringing people together, regardless of age, sex, religion, race or culture. If you've been involved in any project like this with me before, you'll know just how much materials are required plus the lengths of time it takes to prepare it for you to make such a beautiful piece of Art. If you can donate, your contribution is appreciated.
I hope that you all enjoy looking at the Artwork and through it – feel a sense of community and connection to Muswell Hill, for years to come.
With Warm Wishes,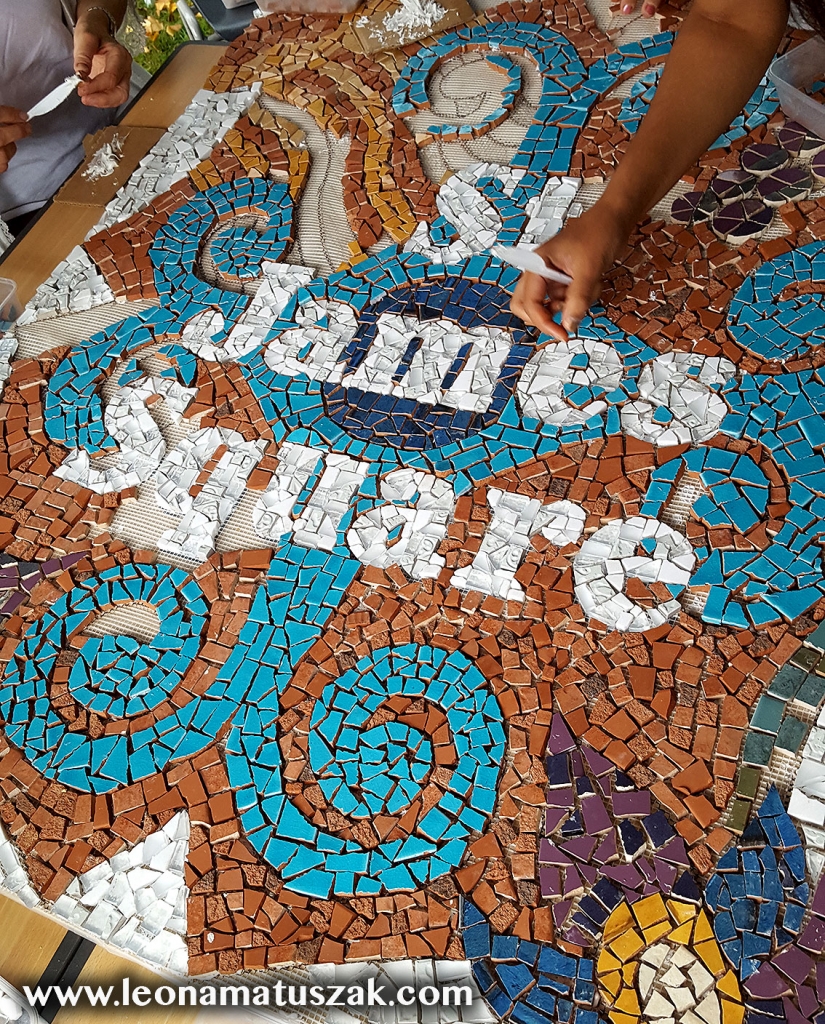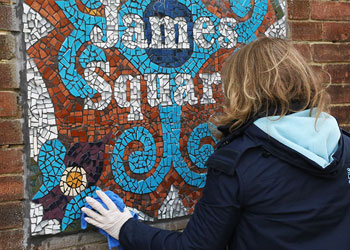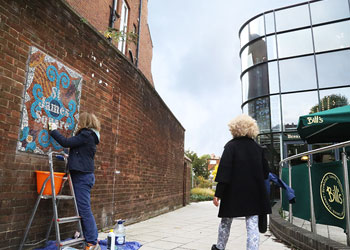 A group of us have been making a mosaic to put on our community allotment building. Leona welcomed all our ideas of what should be in the picture and with everyone chipping in, she drew a fabulous outline ready to be filled in with mosaic tiles. Over the weeks different people have joined in the sessions, and Leona instantly makes them feel part of the group.She is so friendly and welcoming and she values everyone's contributions, even those of us who feel we haven't a creative bone in our body!

Leona is an instinctive teacher, she is very knowledgeable, helpful and patient, she listens and gives great feedback and manages to draw out the best in you. The end result is fantastic and we all feel very proud of our achievements. Mosaic with Leona has been a really good experience and I am greatly looking forward to the next one."
"Huge thanks for all your time and expertise. I have really enjoyed being part of creating our fantastic community mosaic and will miss the sessions. You have been an inspirational "group leader"!"
The benefits of Community Art:
For the Community:
Promotes your commitment to community, inclusion and participation.

Promotes brand/group awareness and engagement

Demonstrates your commitment to the Arts

Transforms a dull space into something more vibrant and exciting.

Helps create a sense of place, connection and ownership.

Commemorates an anniversary, new location, event or milestone

Creates a legacy for generations to come
For the individuals participating it:
Educates in different materials and how they are used

Helps develop relationships between people who may not otherwise engage and opens up a new dialogue between them

Helps participants let go of self limiting beliefs about what they can achieve

Helps people to feel included in something bigger than themselves.

Helps people feel a sense of pride and ownership in something they have created.
Experience
Leona has experience in Making Public Artworks for all kinds of sites, such as in Schools, on Public Walls and Private Spaces. She can design a piece for your community to help create and help facilitate the making workshops – right through to installation.
Get in Touch
 Please call 07905 603 332 or email Leona for more information about making a Public Artwork for your site.